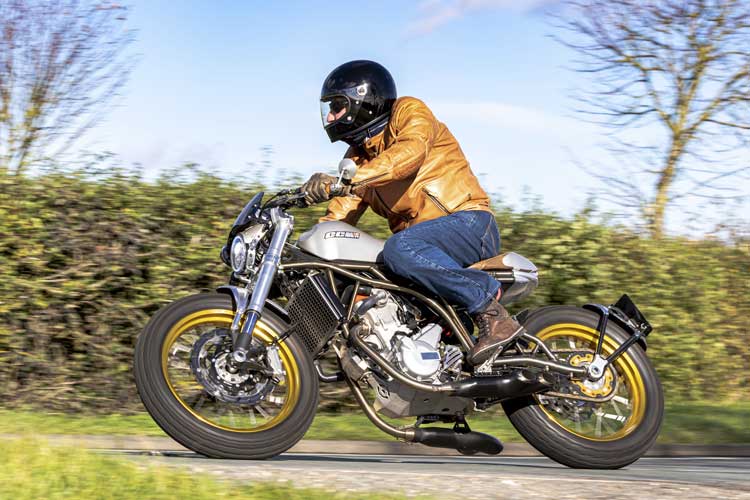 Just a quick email to say……. loving my new Hood jeans, here's a photo from last Sunday.
Dave

I crash tested your jeans today LOL. I had the utmost in confidence knowing my butt would not end up swiss cheese as I slid on it for about 20-30 feet at 40+ :). Thank you for making the jeans that literally saved my butt earlier today! :).
Mike

I have just tried your K7 jeans and they are outstanding in terms of the fit and all-round quality, style and comfort. Having recently tried on a number of other brands Hood are by far the best and are very keenly priced for this level of comfort and protection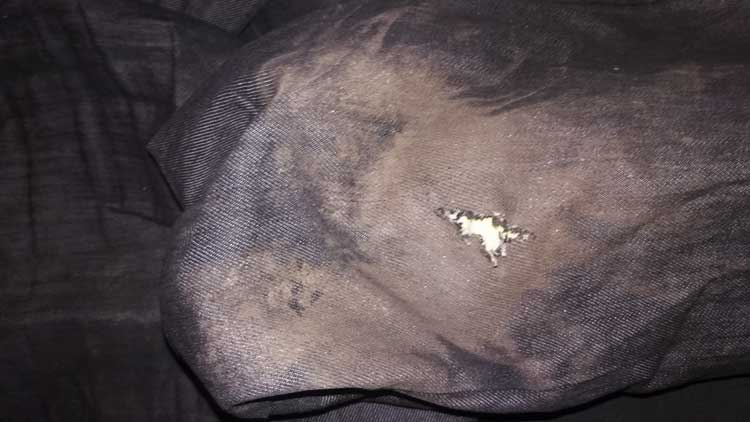 I thank you very much Julie! I have a testimonial for you with pictures. My jeans came (much earlier than I expected) as I was leaving for my 600-mile trip to The Dragons Tail me new Hood Jeans came FedEx, I changed into them real quick and left. We made it to destination slept woke up and hit the Dragon aka Deals Gap (318 curves in 11miles) if you're unfamiliar. I had quite a mishap. I don't want to state mph on the record. Look at pictures and guess. Your jeans did what they were supposed to saved me lower half from injury! They were 1 day old, only damage is scraped hole in denim. Please see attached photos. Once again thank you very much.
Life time customer

Hello, an update. A couple years ago I had the unfortunate opportunity to test out one of your jeans. A texting teenager veered into my lane from oncoming traffic and hit me head on. Needless to say, I went for a flight then skidded across the intersection. Not a mark on me. I didn't even get burned from the friction. I am astonished how well my jeans performed; I knew they were great quality but this was beyond expectations. The ambulance crew was shocked because they looked like regular jeans. And these were your older model (I've since replaced that pair). I will continue to be a loyal customer and can't thank you enough for saving me months of pain. I will be ordering again and again. Well done! Please pass my thanks on the all of your team members. Please stay safe and I hope you all know that you're making a huge difference.
Brian

Hi, I bought some Jean's from you around the end of April; last weekend was my first time wearing them and also my first bike accident. The Jean's are amazing, a 40mph slide down the road and the only damage to the Jean's is a scuff on the left leg and the left rear pocket stitching has been ripped apart leaving the pocket hanging off, without these Jean's on I think things would have been a lot worse. Regarding the pocket, I could remove it totally and continue to use the Jean's, however they would look odd. Do you do a repair service. Kind regards.
Chris
Response – we did manage to repair the back pocket for Chris

How can I even start to review my new Hood K7-AA jeans??!! I'm the sort of person who researches over and over; videos, internet research and in-store hands on, I've been doing this since January trying to find a pair of denim bike jeans but I couldn't find anything that was just right and didn't cost a fortune. (Read that as sales persons worst nightmare!) I first came across Hood Jeans in March but dismissed them given that I couldn't try them on and get my hands on them for a good look. But time after time their name came up and my research and their testing really made them stand out from the other brands. I finally bit the bullet and ordered a pair without touching last week; plenty of research and messages to Chris the owner (sorry Chris) WHAT HAD I DONE?! This sort of purchase was so out of character for me. 5 days later the parcel arrives, on picking it up it felt lighter than I expected, compared to their rivals, had I made the right decision or was something missing? On opening the package, everything was there (jeans, hip & knee armour and the choice of a free exchange if they weren't right the first time) the jeans looked and felt amazing. On first trying them on they didn't let me down, they fit true to size and looked like a pair of high street jeans. I had upgraded the armour to the "Pro armour" it felt a tad bulky on fitting but not too uncomfortable and still look like a pair of jeans would wear to the pub. On my first test ride today; 40-50 miles or so the jeans felt great. The temperature was 18° and I could hardly tell I was wearing them, they felt cool. A little tinkering with the knee armour to get it in place, but that's expected. You can tell that the armour is there as the knee area felt a little tight but for me it's worth the upgrade to make the jeans a level 2 product. The bum area also felt snug when I was moving around on the bike but when I was sat planted the jeans felt really good. On getting off the bike I had a huge smile across my face. Had I made the right decision? Absolutely! All that time researching had paid off. The customer service from Chris & Julie was great and the product did exactly what they had promised. A stylish, comfy & extremely wearable pair of riding jeans. A super critical 9.5/10 given the bulky knee armour and tight bum. No other jeans have got anywhere near that score! Hood jeans, thank you & if you ever need a brand ambassador give me a shout any day!

Jeans arrived bang on time and are a perfect fit. They are incredibly comfortable to wear on and off the bike and thank you again for producing such a good product.
Iain

What a stunning pair of jeans! I rode a little over 300 miles today to break them in. Incredible soft inner mesh, perfect street bike look, the ghost armour is so much more comfortable. Loved it and got lots of attention.
Ludger

The Hood jeans arrived, I am really impressed with the quality, the colour and the fitting of them, I was out on Sunday and rode around 300 miles and I must say they are the most comfortable bike trousers I have ever had, I'm 48 and have been riding bikes since I was 20 and these trousers are unreal, the best and most comfortable trousers I have ever worn, I can't explain how pleased I am with them, I will be passing on good reports to any bikers who ask.
Noel

Just a short message to say thank you, I have received my jeans and although a little sceptical about the "fit and forget" line in your advertising referring to the armour I have to say its spot on. I actually thought the hip armour had fallen out when I first put the jeans on. The jeans themselves are a revelation, compared to my old ones they are another level. I have yet to do a great number of miles in them but the miles I have done have been comfortable and feel no different to wearing normal denim jeans. Many thanks for a great product.
Stuart

I recently purchased the unarmoured version of your jeans as I already have spare armour from other garments. I was impressed with the speed of your response as you emailed me almost immediately following my order. The item arrived within a week which considering the current situation was great. I have worn the jeans a few times and I have to say that these jeans are as close to perfection as I could imagine. The sizing is spot on, fit is very good and the quality of construction enviable. Fantastic product.
Thankyou.