WHY HOOD JEANS DO NOT MANUFACTURE 'SINGLE LAYER' MOTORCYCLE JEANS
Reading this may just save your skin!
In recent years the number of single layer motorcycle jeans has increased significantly. So why doesn't Hood Jeans manufacture a single layer jean? The answer is quite straightforward. We haven't identified a suitable material for use in single layer motorcycle jeans which can provide the protection both we and more importantly our customers demand from a pair of Hood Motorcycle Jeans.
Single layer denim has been around for many years. We first tested single layer denim back in 2010. That particular fabric did not meet the minimum levels of abrasion protection that we have always insisted on.
We witnessed further drag tests of a single layer jean in 2015. Once again, the product performed poorly, failing very quickly.
In RiDE Magazine's July 2019 issue, they published results from a 'destruction test' involving twelve motorcycle jeans then on the market. Four of these were 'single layer' jeans, they were only awarded 2/10, 4/10, 5/10 and 6/10 for protection. The lined Hood K7/AA Jean was awarded 10/10 for protection. The K-tech lining in the Hood Jean remaining totally intact throughout all four tests and resulting in the K7/AA Jean being awarded a RiDE 'Best Buy' triangle. The only other jean on the test to also be awarded 10/10 for protection was unsurprisingly another lined motorcycle jean, this one by an Australian company.
In 2022, Bennetts performed an independent test on a Hood EN17092 Class AAA lined jean, a EN17092 AAA single layer jean and single layer of BKS made to measure leather, they quoted the following results: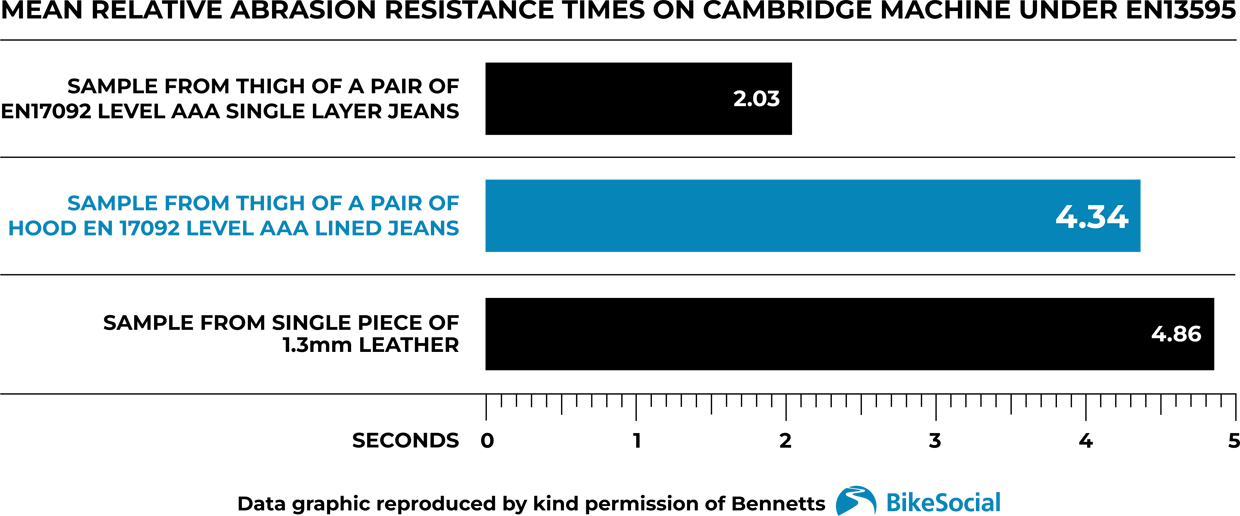 As you can see the single layer jean gave half the relative abrasion resistance compared to the lined Hood Jean. As expected, BKS leather received the best result. We certainly wouldn't argue with Bennetts' findings. We have always endeavoured to produce motorcycle jeans that can get as close as possible to leather for protection. However, the above data is in complete disagreement with some manufacturers and retailers of single layer jeans that still claim their products give the same or even greater protection compared to a lined motorcycle jean or set of motorcycle leathers. Evidently these claims are not supported by the Bennetts data.
The full review from Bennetts can be seen at:
Data from MotoCAP, the world's most extensive independent test programme for motorcyclists' clothing, support Bennetts' conclusion that lined jeans are predominantly superior to single layer jeans for abrasion protection. In data taken from the MotoCAP website in July 2022, no single layer jean scored more than one point out of a possible ten for abrasion resistance. The top twenty-three jeans for protection on the MotoCAP website were all lined motorcycle jeans.
For urban rides, a single layer garment would probably provide the protection needed. However, we know Hood Jeans wearers use and trust their jeans for all types of rides, on the open road and at motorway speeds, not just for those around town. Therefore, we honestly feel we cannot put that trust, our reputation, and most importantly our customer's safety at risk by placing the Hood Jeans name on a product that we don't have complete confidence in.
Over previous years the motorcycle jeans we had seen that had failed were those styles that had small panels of protective lining covering certain primary crash areas. These jeans failed to protect in the areas where the lining did not cover, causing injury to the skin below. More recently, the fashion for single layer motorcycle jeans seems to have taken over from the panelled style of lightweight motorcycle jean, possibly helped by a standard – EN 17092 – that enables them to do so. However, we strongly feel that the single layer style of motorcycle jean also has major flaws, meaning riders could be putting themselves at risk of injury whilst believing they are fully protected.
Further evidence and concerns
Failing of the single-layer denim from heat: Blended fibres used in monolayer jeans are based in part on the respective melting points of the commonly used materials. In ascending order these are 155 degrees for UHMWPE, 260 degrees for polyester, 295 degrees for polyamide, 300 degrees at which cotton decomposes, 330 degrees for Vectran and above 500 degrees for Kevlar and K-tech para-aramid, all values in Celsius. Testing conducted as part of the PIONEERS project has measured the temperature at the rider's skin in a slide from 70kph/44mph at 143C. That's close to the melting point of UHMWPE and may be exceeded at the point of contact with the road, but the key issue here is that in the case of UHMWPE in particular, a fibre woven in to supposedly increase strength of the fabric overall has a melting point of only just over half that of the material it is supposedly reinforcing.
Weakening of the single-layer denim from heat: As mentioned in concern one, the melting temperature of UHMWPE is low, quoted from 130-160°C depending on the source. Due to the nature of the structure of the long chain PE molecule, its tensile strength reduces as the temperature increases. One academic paper indicates; (a) the variability in melting point of UHMWPE, depending upon source, with some fibres reaching their melting point at a temperature lower than that recorded in the PIONEERS tests; (b) that the fibre starts to lose its tensile strength well below the melting point; and (c) that the point can be reached where the sudden onset of catastrophic failure occurs. As you can see, this suggests that even if UHMWPE fibres do not reach their melting point, they can still be significantly weakened by heat. The fibre's strength falls off a cliff with the increase in temperature.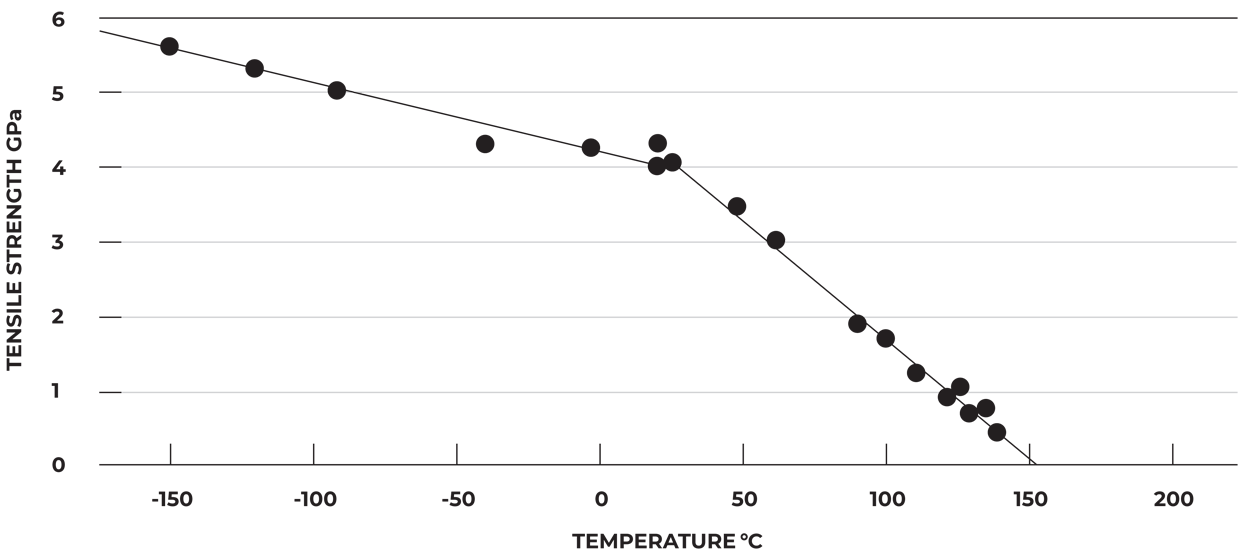 Tensile strength versus tensile testing temperature of a UHMWPE fibre (λ = 100, 5.0wt.% Hifax A) showing the ductile to brittle transaction upon decrease of temperature (from[10]). At 152°C orthorhombic crystalline material transforms into the hexagonal phase. Crosshead speed 10mm/min, sample length 50mm.
(Source: Tensile deformation of high strength and high modulus polyethylene fibers. H. van der Werff and A. J. Pennings. Department of Polymer Chemistry, University of Groningen, Groningen, The Netherlands).
Deterioration of the cotton element of the single-layer denim over time: What happens to the 'single layer' denim after a few years, once the jean has been worn and washed many times? At what point does the cotton element of the fabric start to deteriorate and lose its strength, as happens with all cotton / denim fabrics? At this point will the jeans provide the same level of protection as when they were first tested? Our experience suggests not. It has been said K-tech para-aramid loses its strength with washing, but this statement is highly misleading. It is true that K-tech is affected by water, but the effect is so small the amount cannot be quantified, meaning it is virtually unaffected. And when the K-tech dries it returns to its original strength. I guess very few fabrics get stronger with wear, however, we all know what happens to denim and the knees of our favourite jeans over time. Of course, the deterioration of the outer denim still happens with Hood jeans however, with a Hood lined motorcycle jean you always have the second layer of 100% K-tech para-aramid to save your skin.
Dilution of protective fibres within single-layer jeans: The reasoning here is that any benefits provided by the hi-tech protective fibre whether it be Kevlar or UHMWPE are simply diluted by the lower-performing cotton it is combined with to construct the denim. Some single layer denims feature a 40% protective fibre / 60% cotton construction. Some single layer denim has an even lower percentage of the protective fibre. This means all single layer denim jeans contain a far greater percentage of normal cotton, and a lesser percentage of the protective fibre. How can this provide the same protection level as a 100% K-tech para- aramid protective layer? There are, of course, denim-look jeans which are manufactured entirely from man-made fibres, with no cotton content whatsoever. These will not display the same degradation highlighted above, but the choice of which fibres to use could prove extremely important in terms of their respective melting points.
Shear-force injury: The term 'single layer' is a little misleading as ALL 'single layer' motorcycle jeans really should incorporate a second lining, to reduce shear-force injuries. These are the skin abrasions and injuries to the underlying soft tissue which can occur due to the movements between the outer fabric, when it is in contact with the road surface, and the wearer's skin, and which causes the back surface of the outer material to transfer these forces direct to the wearer's skin. This is entirely different to the injuries which can occur when the fabric of the jeans is breached, a hole or tear appears, and the road surface makes contact with the wearer's skin. Shear force injuries, commonly referred to as 'lining burns', were responsible for the urban myth that man-made linings melt during a slide. The actual mechanism of injury was first discussed by respected motorcycle clothing expert Paul Varnsverry in the late 1980s, given the name 'shear force' by Dr. Roderick Woods in the early 1990s, and is a term which continues to be used today by both Paul Varnsverry and Dr. Chris Hurren, of MotoCAP. Linings in garments are essential to providing 'shear-force interception' and they do this by remaining static on the wearer's skin, whilst the movements of the outer layer take place against the reverse face of the lining. Multi-layer constructions amplify this benefit.
Multi-layer constructions work in the same way as do laminates, which outperform the cumulative individual properties of each separate layer from which they are constructed (the whole is greater than the sum of the parts). In addition, the separate layers can move relative to each other, improving flexibility.
Be wary of so called 'slide times': A term which does not appear in either EN 17092 or EN 13595. Time does not form the criteria by which a pass/fail result in the EN 17092 impact abrasion test is defined – that is set by whether a hole has appeared at the end of the test which is larger than 5mm in any direction. Motorcycle clothing expert, Paul Varnsverry, commenting in a discussion on social media, had this to say about the use of the term 'slide time': "'Distance to stop' and 'time to stop' of the test samples in the Darmstadt abrasion machine are required to be entered into test reports to establish the coefficient of friction that exists between the materials that comprise the test specimen and the concrete surface of the device. I have results for a construction that passed for Class AA that differs in so-called 'slide time' by only 0.4 of one second compared with a construction that achieved an AAA result. This is insignificant if read in the context of respective levels of protection, but as I have already stated, this is not the purpose of the data."
Because not all Class AAA Jeans are the same: This is very true, as demonstrated in the Bennetts test. They tested two AAA Jeans. One single layer and the lined Hood Jean, both had the same AAA classification, however, the lined Hood Jean received an abrasion result over twice that of the single layer jean. This has to be a flaw in the EN 17092 standard, and is something we believe is giving undeserved credibility to some products on the market
Over our twenty-five years history, protection has always been our top priority. Since the start of 2022, all Hood Jeans that come with D3O hip and knee armour have been CE and UKCA certified to Class AAA: EN 17092-2:2020 The highest performance level specified by the standard. The bottom line is we believe protection is the reason why people purchase our jeans.
Our business philosophy is quite clear: "The highest levels of protection, for not the highest price."
All motorcycle clothing sold in the UK should now either be CE or UKCA classified. This should give a level of confidence to the consumer, but we still believe a little homework is required before purchasing your next motorcycle jean. We feel that product should be a lined motorcycle jean, whether that is a Hood Motorcycle Jean or a lined motorcycle jean from another brand.
Thank you for taking the time to read my words.
Yours sincerely,
Chris Easterford
I received the order and the jeans are... fantastic! Purchasing online for the first time from an unknown supplier always entails some risk, but you have exceeded my expectations in the quality of the product, customer service and delivery timing.
The denim on my Hood Jeans had been ripped in numerous places but the K-tech para-aramid and D30 armour saved me from any injury.
I ordered a pair of your K7 jeans with the D30 knee & hip protectors at the beginning of the week and they arrived yesterday. I live in Normandy so already the speed of delivery impressed me but it doesn't stop there.
I just wanted you to know that while on tour in Spain last week, I dropped my Triumph Explorer at about 20 MPH, breaking my ankle and arm in the process. I had no road rash at all and the jeans were completely undamaged.
I crash tested my HOOD JEANS whilst trying to learn to wheelie. Obviously we were practising on private land, with the owner's permission. Well as you can see, my jeans stood up to my lack of talent far better that my bike did.
Great buying experience! I am very pleased with the product received and the speedy delivery. This is my second pair of your motorcycle jeans. I lost weight and wanted to get another as I liked them completely.
I had a high speed accident whilst wearing my Hood jeans. The damage to the jeans is quite substantial but I have come away with not a mark on me considering that I slid down the road for at least 100 metres.